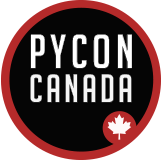 Thank You!
It seems like only yesterday that the first-ever PyCon Canada was announced... And now the second installment has already come and gone!
From Aug 9-13th, 400 Pythonistas gathered in Toronto to learn, do, and share with one another. Thanks to the amazing team of volunteers and organizers that donated their time and energy to the cause, everything went off without a hitch!
There were many high points throughout the weekend, but perhaps the most consistent praise we heard was how welcomed everyone felt to be there, regardless of background or experience level. Thanks to Google and PyCamp, we were able to greatly increase our diversity grant program this year, and to make PyCon Canada accessible to a large group of attendees who otherwise would have had difficulty attending - many thanks to the both of them!
PyCon Canada Videos
If you weren't able to make it out to Toronto, but find yourself wishing you could have seen the talks -- never fear! The videos are being made available on
http://pyvideo.org
.
PyCon 2014 in Montréal
Of course, the whole motivation for PyCon Canada in the first place was to get the Canadian community prepped for PyCon 2014 in Montréal, which is happening in just 7 months! Remember that talk and tutorial
proposals are due on September 15th
. If you could use some help getting there, the extensive
financial
aid program has already opened - check it out!
Thanks to all involved for making PyCon Canada 2013 an incredible experience, and we'll see you in Montréal!
Michael DiBernardo
PyCon Canada 2013 Chair
https://2013.pycon.ca