As our early bird sales hum along, about to pass 300 tickets sold, we've got some great news for you: keynotes! We kick off each morning of the Friday through Sunday conference with a few select speakers who address the entire conference in our main ballroom. In recent years we've had speakers like Eben Upton (Raspberry Pi), Stormy Peters (Mozilla), Paul Graham (Y Combinator), Hilary Mason (bit.ly), and Mark Shuttleworth (Ubuntu). The keynote speakers have been a great way to kick off the day, and they've always brought good topics, good thoughts, and got the community thinking.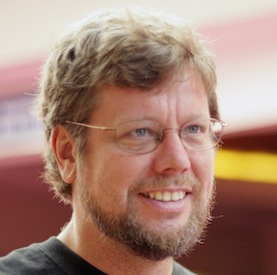 Our first keynote speaker is none other than Guido van Rossum, Python's creator and Benevolent Dictator for Life. He oversees the development of Python, contributing code and decision making to the project. From its beginnings in the late 80's as a successor to the ABC language, with an initial source offering in 1991, Guido has been there every step of the way. He's currently an engineer at Dropbox, and will be making another great keynote as he's been a part of our keynote lineup since the beginning.

Joining Guido is co-founder of the Electronic Frontier Foundation, John Perry Barlow. John's background ranges from cattle ranching in Wyoming to writing songs for the Grateful Dead, on through writing influential essays and into his current startup, Algae Systems. He remains active in the EFF's operation and mission since its inception in 1990, and was inducted this year into the Internet Hall of Fame as an innovator.

We're happy to have both Guido and John on the keynote schedule, and we'll be announcing the rest of our keynote speakers on Wednesday, so be on the lookout!
---
If you haven't registered for the conference, we're still in early bird sales up through the first 800 tickets, so pick up your discounts now at https://us.pycon.org/2014/registration/. We've kept our rates the same going back many years, and brought back the 50% student rate cut from last year.
If financial aid would make this conference a possibility for you, please apply for assistance! The Python Software Foundation provides us with a generous budget to help our community and we aim to help as many people as we can.